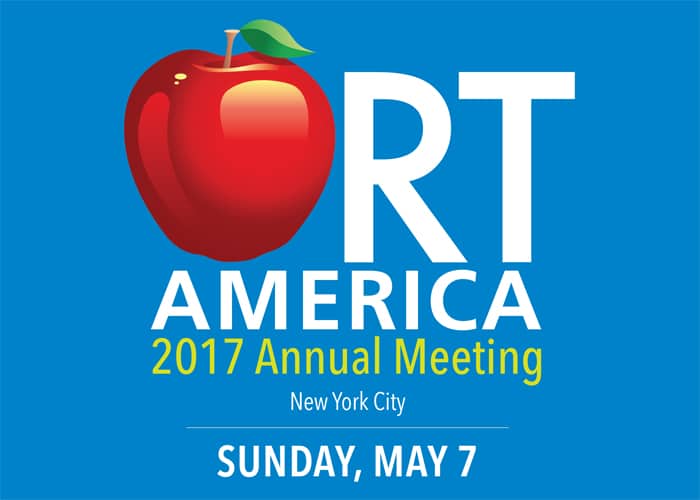 Help Shape ORT's Future
---
Keynote Speaker: Jonah Halper, MPA
Thought leader on philanthropic trends, fundraising and non-profit mission development and marketing
Jonah Halper specializes in strategies for new donor acquisition and cultivating new leadership in the framework of the 21st century. As Founding Partner of ALTRUICITY, Jonah guides many organizations seeking to increase fundraising and build a new generation of leadership. In his book Date Your Donors, Jonah asserts the fundraising process is akin to a courtship, and he discusses ways to stand out in a competitive philanthropic marketplace, how to connect with prospective donors and keys to developing genuine relationships that translate into activism and support.
---
The Annual Meeting will be held at: UJA Federation of New York | 130 East 59th Street | NYC 10022
Annual Meeting Schedule
9:00 am         Breakfast and Registration
10:00 am       ORT America Annual Meeting Program
Jonah Halper, Keynote Speaker
Mission, Marketing, People, Philanthropy
11:15 am       Break-out Session
12:30 pm       Lunch/Table Sessions
1:30 pm         Focus on ORT guests from Israel and the former Soviet Union
3:00 pm         Annual Meeting Program concludes
3:30 pm         ORT America Board of Directors Meeting (by invitation only)
5:30 pm         Board Meeting concludes
Please plan to attend our Havdalah Dinner Saturday Night, May 6 at 8pm.
Location to be advised.
Hotel Options for your New York stay – Register by April 6 for preferred rates:
San Carlos Hotel 150 East 50th Street • New York, NY 10022
Deluxe Queen/King Room, $289/per night plus applicable taxes
Email: reserve@schnyc.com
Group Name: ORT America Annual Meeting • Group Number: BOOK17
Courtyard Marriott New York Manhattan/Midtown East
866 Third Avenue • New York, NY 10022
Standard King Room, $199/per night + applicable taxes
To reserve: Visit Book your group rate for ORT America Board Members or call 800-321-2211
Optional New York activities:
• Visit the National September 11 Memorial https://www.911memorial.org/visit-museum-1
• Visit the Jewish Museum (free admission on Saturday)
Annual Meeting registration $100
Saturday Night Havdalah Dinner $125
(These are not tax-deductible)
For more information contact: Roxana Markus, Manager of Trades, Conferences and Meeting Planning
212/547.9154 | rmarkus@ortamerica.org