About ORT Chicago
Claire* and Bob** Mazer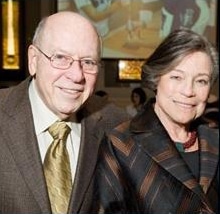 In June 2009, ORT America proudly recognized the Claire and Bob Mazer family by dedicating the Chicago region office in honor of their leadership and support of the organization. The generosity and commitment of the Mazers over nearly a half century have inspired ORT leaders and members, and ORT programs around the world have benefited from their contributions.
In 2002 the Mazers received the ORT Tikkun Olam award in recognition of their outstanding philanthropic commitment. Claire served as an honorary vice president of Women's American ORT, was a longtime member of the national board, was co-chair of the Pacesetters, and served as secretary of the Zarem Golde ORT Technical Institute.  She was president of the Lake County region and Bobolink chapter, and helped raise hundreds of dollars over the years. Longtime supporters of the Jewish community, Claire served on the board of the Women's Division of the Jewish United Fund of Metropolitan Chicago and as a trustee of the Jewish Women's Foundation; Bob served on the board of directors of the American Israel Political Affairs Committee (AIPAC) and was co-chairman of the International Fellowship of Christians and Jews.
**Deceased 2013
*Deceased 2016
---
The Chicago region is comprised of diverse ORT members and supporters spanning several generations.
The comprehensive fundraising agenda for the region includes hosting periodic events, cultivating new major gift donors, developing the Chicago NextGen group, acquiring corporate sponsorships and general promotion and outreach. If you live in the Chicago area and would like to become active in ORT, please contact Barbara Statland.