President's Message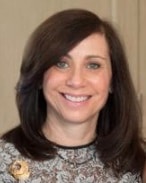 After 25 years of active involvement with ORT, I was thrilled to finally participate in an ORT Mission and see Israel through the ORT lens!
Our trip was filled with tours of schools – showcasing the deep and comprehensive programs we support in Israel. There were 34 mission participants, including several ORT America staff.  Proudly, the Chicago Region was well represented with 8 travelers from our region.
Our first school visit on the mission was a tour of the Hodayot Youth Village.  I was really looking forward to this visit, as Youth Villages have been the target of our region's fundraising efforts for Lunch With a View.  At Hodayot, we were greeted by students who reside at the school because they come from home situations and circumstances that make it impossible for them to learn in a typical educational environment. We also saw the Kidoorie School, which follows a strong academic curriculum and showcases the technology, teacher training and updated facilities made possible by the collaboration of the Israeli Ministry of Education and World ORT Kadima Mada. Additionally, I saw the Tuviyau School in Be'er Sheva that serves as a neighborhood school in an area known as the capital of the Negev.  At Tuviyau, we were able to learn alongside students in a Future Learning Space, the focus of our region's fundraising in 2015!!!  We had the opportunity to tour two vocational schools, where the student population is made up of adults trying to re-enter the work force through learning practical skills that are desired in Israel's economy.
No matter the school, the most meaningful moments for me were meeting the students.  Whether speaking with a 40 year old who is trying to advance his career after serving in the IDF Reserves or a youth village student who shares her dreams of becoming a surgeon, these students showed us that the programs and schools that we fund are making a difference.
We all support ORT because we know that ORT America helps to provide for the educational needs in the communities it serves, but seeing the effects in person really shows the impact we have on our students and their futures!  I hope that many of you will have the opportunity to see these results for yourselves and consider traveling on an ORT Mission in the near future.
For now, please to
donate
and join me in supporting these life changing programs!
Ellen Doppelt
Metropolitan Chicago Region President
ORT America