The Michigan region of ORT America raises funds to support the World ORT global network of schools and programs via its annual campaign and four annual fundraising events:  WINGO, ORT and the City, Rub-a-Dub and Camp Hermelin.
ORT America is the leading fundraising arm of World ORT, the largest non-governmental Jewish education organization in the world that provides education and training with an emphasis on STEM (science, technology, engineering and math) to over 300,000 individuals worldwide.  This focus has evolved to meet the employment needs of a wide variety of industries in the telecommunications, robotics, bioengineering, biochemistry, natural gas, automotive and urban planning fields, and it prepares students to launch productive careers and lead fulfilling lives in an increasingly higher-tech society.
The David B. Hermelin ORT Resource Center in West Bloomfield is an example of the important role of ORT. Through the Better Jobs Opportunities Program (BJO), Hermelin ORT provides free computer training courses to unemployed and under-employed Michigan residents, knowledge critical to landing a job in today's marketplace.
ORT has made a positive impact in the lives of millions of students by equipping them with a high-caliber education and training to become contributing members of their communities, and the Michigan region is proud to help improve the world through this important work.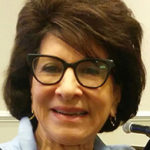 "ORT has meant a great deal to me for over half a century. Originally I was attracted to ORT because of the vocational education it offered, but equally important, it was a way to keep our Jewish kids Jewish. ORT has always offered the most cutting edge education so wherever students lived and during whatever time period it was, they were able to obtain a job and become productive members of their communities. My husband's favorite phrase was, "If you give a man a fish, he will eat for a day; if you teach a man to fish, he will eat for a lifetime.'" This is what ORT has been doing since 1880 around the world, and this is why I love ORT."
Doreen Hermelin
---
Smart Classroom Sponsor
The D. Dan and Betty Kahn Foundation
William & Audrey Farber Family Foundation
William Davidson Foundation
Doreen Hermelin | Joel E. Jacob Family | Andi & Larry Wolfe
---
Enrichment Program Sponsors

Joyce & Dr. George Blum | Marvin & Betty Danto Family Foundation
Gilbert Family Foundation | Drs. Lynda & Conrad Giles
The David Korn Trust | Barbara & Irving Nusbaum | Jane & D. Larry Sherman
Robbie & Scott Sherman | Sylvia & Randall Wolf | Lori & Alan Zekelman
---
Classroom Sponsors
Goodman Family Charitable Trust
Teri & Mark Goodman, Amy & Matt Fraiberg, Jeff & Regan Goodman,
Avery, Aiden, Ashley, Michael, Ryan, Dutch, Samuel, & Orion
Enid & Gary Goodman, Roger & Hailey Goodman, Brandon Goodman
The Blumenstein Family Foundation | Nancy & James Grosfeld
Linda Dresner & Edward C. LevyBetsy & Keith Lublin | Sonia & Keith Pomeroy
Deborah & Steve Rosenthal | Linda & Leonard Sahn | Dorothy & Dr. Hershel Sandberg
---
Tuition Sponsors
Anonymous | Hilary & Stuart Borman | Jill & Aaron Dones | Glenn/Oak/South
Jennifer & Brian Hermelin | Hilary & Edan King | Lauren & Phillip Fisher
Andrea & David Jacobson and Family | Anna & Yale Levin | Carole & Dr. Larry Miller
Nicole Miller & Bubba Urdan | Eunice & Milton Ring | Lynn & Harvey Rubin
Bluma Schechter | Lisa & Gary Shiffman | Nicole & Norman Yatooma